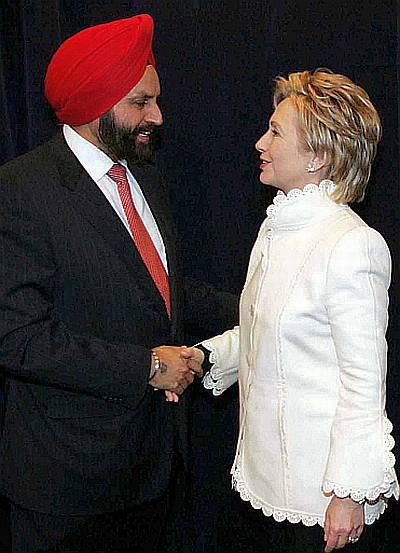 Senator Hillary Rodham Clinton was on Monday appointed as the US Secretary of State by President-elect Barack Obama and Vice President-elect Joe Biden.
Monday's announcement has put an end to speculations about the prospects of the former Democratic rivals joining hands to guide the United States foreign policy amid steep challenges at home and abroad.
The decision to offer the second most powerful job in the administration to 61-year-old Clinton followed days of intense vetting and negotiations intended to clear any potential obstacles to her taking the job, due to her husband Bill Clinton's global business and philanthropic activities.
Over nearly four decades in public service, as an attorney, First Lady, Senator, and presidential candidate, Hillary has been one of United States' foremost champions for children and families and advocates for women's rights and human rights.

During the Clinton Administration, she transformed the role of First Lady, fighting for universal health care and helping to lead successful bipartisan efforts to improve the adoption and foster care systems, reduce teen pregnancy, and provide health care to millions of children through the Children's Health Insurance Program.
Others who got on board the Obama-Biden national security team include Defense Secretary Robert Gates, who will remain as Secretary of Defense, Eric Holder as Attorney General, Arizona Governor Janet Napolitano as Secretary of the Department of Homeland Security, Susan Rice as Ambassador to the United Nations and General Jim Jones, USMC (Ret) as National Security Adviser.
In a press release, Obama said: 'This uncertain world, the time has come for a new beginning – a new dawn of American leadership to overcome the challenges of the 21st century, and to seize the opportunities embedded in those challenges.'
'To succeed, we must pursue a new strategy that skilfully uses, balances, and integrates all elements of American power: our military and diplomacy; our intelligence and law enforcement; our economy and the power of our moral example. The team that we have assembled is uniquely suited to do just that. They share my pragmatism about the use of power, and my sense of purpose about America's role as a leader in the world,' he added.

Also Read: 
'Hillary Clinton was not ignored by Obama'
Five Challenges before Obama
Birth of a new nation
Obamania

Image: Indian American for Democrats Chairman and Hotelier Sant Chatwal greets Hillary Clinton after she was named Secretary of State in the Obama-Biden national security team.
Photograph: SnapsIndia