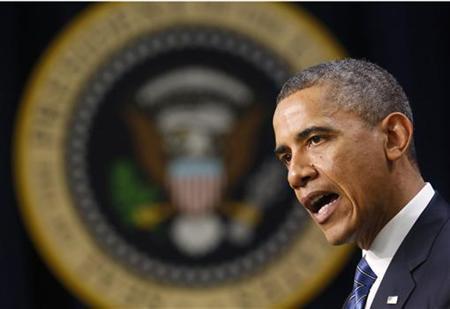 Warning companies eyeing business deals with Iran, United States President Barack Obama has said that they can take such a move at their own peril as America and its allies would come down like a "ton of bricks" on those that violated sanctions against Tehran.
"Businesses may be exploring, 'are there some possibilities to get in sooner rather than later if and when there is an actual agreement to be had?'" he said at a joint news conference with his French counterpart Francois Hollande.
"They do so at their own peril right now, because we will come down on them like a ton of bricks with respect to the sanctions that we control," Obama warned on Tuesday.
"We don't want new sanctions because the ones we have in place are already squeezing Iran and brought them to the table, but we also want to send a message to the Iranians that if they don't resolve this broader issue of their nuclear program that there will be consequences and that the sanctions regime not only will stay in place but will likely be tightened in the event that these talks fail," he said.
Obama said the US and its allies have been extraordinarily firm that even during this interim agreement, they will fully enforce all applicable sanctions.
"In fact, we have taken various steps just over the last six, seven weeks to identify companies that we felt were violating those sanctions and have been very clear to the Iranians that there's not going to be any let-up," he said.
"In discussions with President Hollande, he feels the same way, as do all the P5-plus-1 members," Obama added. Hollande said he has warned the French companies against conducting businesses with Iran in violation of the sanctions.
"I certainly let them know that sanctions were in force and would remain in force. And if contacts were to be made with a view to a new situation in Iran, a situation where Iran would have renounced the nuclear weapon fully and comprehensively -- well, unless such a new situation would prevail, no commercial agreement could be signed. That's what I told French businessmen," he said.
"As far as sanctions are concerned, they will only be lifted if and when there is a definite agreement. And during this period of an interim agreement, they remain in force," Hollande said.
Last week, a delegation of more than 100 French executives with representatives from major companies visited Iran to explore the business opportunities.