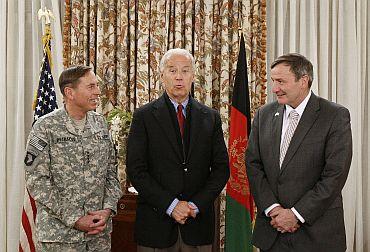 United States Vice President Joe Biden on Monday made an unannounced trip to Afghanistan to have an on ground assessment of the situation in the war-torn country, less than six months before the scheduled start of drawdown of American troops.
The US vice president will hold talks with Afghan President Hamid Karzai, visit US service members and civilian personnel, and tour an Afghan National Army Training Centre to have an on ground assessment of the situation in the troubled nation.
"The primary purpose of the trip is to assess progress toward the transition to Afghan-led security beginning this year, and to demonstrate the United States' commitment to a long-term partnership with Afghanistan," the White House said in a statement.
Biden's last visited Afghanistan in January 2009 as Vice President-elect. Biden and Karzai will also hold a larger, expanded meeting with officials from both teams and will have some likely one-on-one time.
The two are expected to make statements after the meeting, officials said.
White House officials said Biden will meet with Gen David Petraeus, Commander of US and NATO forces in Afghanistan, and US Ambassador to Afghanistan Karl Eikenberry for an hour or more to get an "update from them on the situation on the ground."
The Washington Post had reported last week that Biden would be traveling to Pakistan this week, but there was no word from the White House on this issue.
The Post said despite increasing frustration that Pakistani officials are not doing enough in the war against terrorism, the US administration has decided to provide more military, intelligence and economic support to Islamabad.
And this message would be delivered by Biden. "The decision to double down on Pakistan represents the administration's attempt to call the bluff of Pakistani officials who have long complained that the United States has failed to understand their security priorities or provide adequate support," it said.
The daily reported that Biden will challenge the Pakistanis to articulate their long-term strategy for the region and indicate exactly what assistance is needed for them to move against Taliban sanctuaries in areas bordering Afghanistan.
"The strategy, determined in last month's White House Afghanistan war review, amounts to an intensifying of existing efforts to overcome widespread suspicion and anti-American sentiment in Pakistan, and build trust and stability," it said.
Image: US Vice president Biden, US ambassador to Afghanistan Eikenberry and General Petraeus, commander of US and NATO forces in Afghanistan, talk to media at US embassy in Kabul
Photograph: Omar Sobhani/Reuters