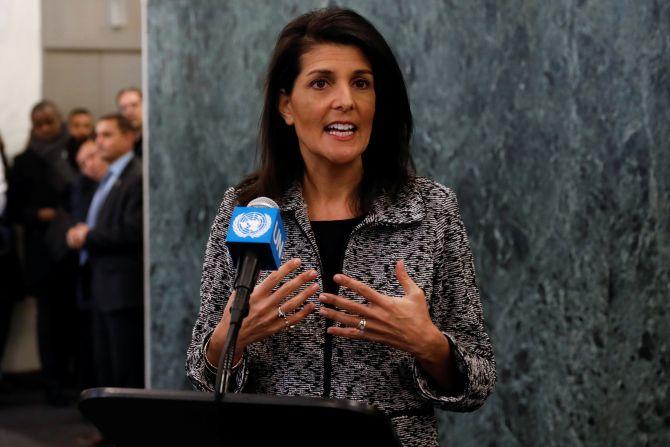 The United States supports the two-state solution to the decades-long Israeli-Palestinian conflict, America's top diplomat to the United Nations has said while indicating that the Trump administration is 'thinking out of the box' to bring peace to the region.
"First of all, the two-state solution is what we support. Anybody that wants to say the United States does not support the two-state solution -- that would be an error," US envoy to the UN Nikki Haley told reporters on Thursday.
"We absolutely support the two-state solution but we are thinking out of the box as well: which is what does it takes to bring these two sides to the table; what do we need to have them agree on," the Indian-American envoy said responding to questions on President Donald Trump's remarks, which he made during a joint press conference with visiting Israeli Prime Minister Benjamin Netanyahu.
Breaking away from Washington's long-held policy on the issue, Trump had on Thursday said he would be open to 'alternate solutions' that does not necessarily involve a two-state solution to the six-decade long Israeli-Palestinian conflict.
Haley, 45, said: what we support more is peace and stability and by bringing the two to the table to have them talk through this in a fresh way, to say we are going to go back to the drawing board, what can we agree on, that is what the US wants.
She added that Washington wants to facilitate both the Palestinian Authority and Israel coming together, 'being accountable' and moving forward for peace.
"The US supports the two-state resolution, that's never been wavered. What we are saying is let us not just talk about the old way of doing things, let's come to the table with all the fresh atmosphere perspective that we now have and see how can we move forward," she said.
"At the end of the day, the solution to what will bring peace to the Middle East is going to come from the Palestinians and Israelis. The US is just there to support the process," she added.
UN Secretary General Antonio Guterres had also cautioned that there is 'no Plan B' to the Israeli-Palestinian conflict, warning against any action to undermine the possibility of the two-state solution.
In a separate address to students at Cairo University, the UN chief stressed that there is no alternative to the Israeli-Palestinian conflict but the two-state solution and that no actions should be taken to undermine that possibility.
UN Special Coordinator for the Middle East Peace Process Nickolay Mladenov, in a briefing to the Security Council, also stressed that the two-state solution 'remains the only way' to achieve the legitimate national aspirations of both people.
Photograph: Mike Segar/Reuters