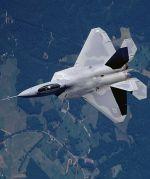 The United States has reportedly deployed stealth fighter jets to South Korea as part of ongoing joint military exercises between the two nations.
The deployment comes at a time when North Korea warns the KoreanPeninsula has entered "a state of war."
The F-22 Raptors were deployed to Osan Air Base in South Korea from Japan on Sunday, Fox News reports.
On Thursday, US military officials revealed that two B-2 stealth bombers dropped dummy munitions on an uninhabited South Korean island as part of annual defense drills that Pyongyang sees as rehearsals for invasion.
Hours later, North Korean leader Kim Jong-Un ordered his generals to put rockets on standby and threatened to strike American targets if provoked.
According to the report, in addition to the military exercise, the US will fortify its defenses against a potential North Korean missile attack by adding more than a dozen missile interceptors to the 26 already in place at Fort Greely, Alaska, Defense Secretary Chuck Hagel has also announced.