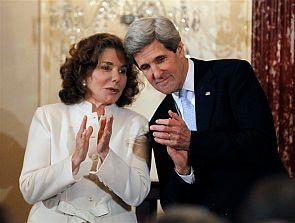 The wife of US Secretary of State John Kerry was in critical but stable condition in a Boston hospital, an official said.
Teresa Heinz Kerry, 74, has been moved to a Boston hospital from the Nantucket Cottage Hospital, where she was initially admitted on Sunday.
"Sunday afternoon, Teresa Heinz Kerry was taken by ambulance to Nantucket Cottage Hospital, accompanied by her husband, Secretary of State John Kerry," said Glen Johnson, Kerry's personal spokesman.

"Once doctors had stabilised her condition, she was transferred to Massachusetts GeneralHospital in Boston, again accompanied by the Secretary," he said.
He added that the family is grateful for the outpouring support it has received and aware of the interest in her condition, but they ask for privacy at this time.
According to Noah Brown, spokesman of the Nantucket Cottage Hospital, Heinz Kerry, was admitted into the emergency room after 3:30 pm.
She arrived in the hospital in a critical condition, but the doctors were able to stabilise her condition later.
Heinz Kerry is the widow of former US Senator John Heinz, heir to the Heinz ketchup fortune.
She married John Kerry in 1995.

She was previously treated for breast cancer