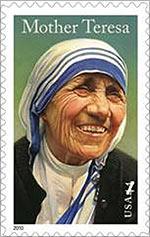 The US has released a special postal stamp in honour of Mother Teresa, acknowledging the diminutive nun's unrelenting humanitarian service for the sick and destitute for nearly 50 years.

The US Postal Service issued the stamp during a special ceremony held at the Basilica of the National Shrine of the Immaculate Conception in Washington on Sunday. The 44-cent stamp features a portrait of Mother Teresa, who received a Nobel prize in 1979, painted by award-winning artist Thomas Blackshear II of Colorado Springs. Blackshear was also in attendance at the event.

Teresa, who died in Kolkata on September 5, 1997, and is buried there, was awarded honorary US citizenship in 1996. Noted for her compassion toward the poor and suffering, Mother Teresa, a diminutive Roman Catholic nun, served the sick and destitute of India and the world for nearly 50 years. "Often, stamps are referred to as a nation's 'calling cards' because they reach a national, and even an international audience," said Postmaster General John Potter in dedicating the stamp. "They focus attention on subjects our country regards with respect and affection, and that is certainly true of Mother Teresa, who believed so deeply in the innate worth and dignity of humankind and worked tirelessly on behalf of the poor, sick, orphaned and dying," Potter said. "That's why today I am so very proud that our country, after making her an honorary citizen in 1996,

is honouring Mother Teresa with such a lasting memorial," Potter said.

The honour has only been bestowed on six others. Winston Churchill received it in 1963, Raoul Wallenberg in 1981, William Penn and Hannah Callowhill Penn in 1984, the Marquis de Lafayette in 2002 and General Casimir Pulaski in 2009. Mother Teresa was of Albanian ethnicity and an Indian citizen who founded the Missionaries of Charity in Kolkata in 1950. For over 45 years she ministered to the poor, sick, orphaned, and dying, while guiding missionary's expansion, first throughout India and then in other countries. When Mother Teresa accepted the 1979 Nobel Peace Prize, she did so "in the name of the poor, the hungry, the sick and the lonely," and convinced the organisers to donate to the needy the money normally used to fund the awards banquet. Well respected worldwide, she successfully urged many of the world's business and political leaders to give their time and resources to help those in need. The then US President, Ronald Reagan, presented her with the Presidential Medal of Freedom in 1985, the same year she began work on behalf of AIDS sufferers in the US and other countries.

In 1997, Congress awarded Mother Teresa the Congressional Gold Medal for her "outstanding and enduring contributions through humanitarian and charitable activities." Following her death, she was beatified by Pope John Paul II and given the title Blessed Teresa of Kolkata.