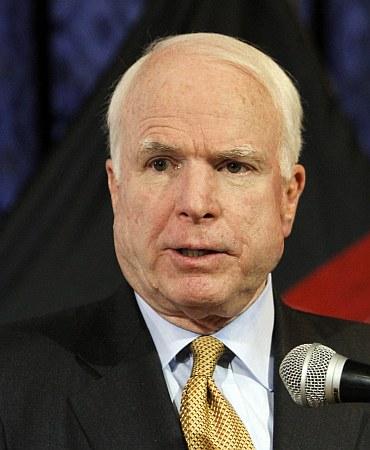 Amid allegations by a Congress spokesman that the United States was behind Anna Hazare's agitation, US Senator John McCain on Thursday said America neither gets involved in such agitation nor has any intention of doing so.
He also described Indian democracy as "strong and successful" which will be able to address the current domestic "disputes and conflicts", saying the current protests were "expression" of a democratic system, which may not be one of the most "pleasant experiences."
"The US does not involve itself in what is taking place in the world's largest democracy and neither it has any intention..," McCain told a press conference when asked about speculation that he cancelled his political appointments following the comments by Congress spokesman Rashid Alvi suggesting the US was behind Hazare's agitation.
Referring to a remark by US State Department Spokesperson urging India to allow peaceful protest", Alvi had on Wednesday alleged that "it is for the first time that the US has  said something like this and put pressure on the government to allow Anna to run his movement...This has never happened earlier. This is a big question on which we have to think and discuss seriously."
McCain said people can have their views but there was only one set of facts.
Noting that both India and his country were right now focusing on their own domestic challenges, McCain said "Our democratic politics will always be energetic and  contentious that is the nature of democracy."
"India has strong and successful democracy which ensures the rights of its citizens. So, I am confident that India will be able to address its current conflicts and disputes to its own democratic system....," he said.
He also talked about how the Americans, who were not happy with the present situation and the government, were handling it.
Image: US Senator John McCain
Photograph: Reuters