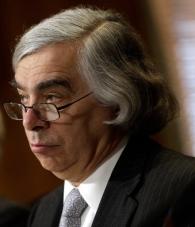 United States Energy Secretary Ernest Moniz has cancelled his crucial trip to India next week in view of the strained bilateral ties over the arrest of a senior Indian diplomat on alleged visa fraud charges, the most serious fallout of the ordeal yet.
Moniz's planned visit to India next week has been delayed, an energy department official said.
The India-US energy dialogue to be led by Moniz was expected to make significant progress in energy co-operation and export of American shale gas to India. It would be rescheduled for a mutually convenient date later, State Department Spokesperson Jen Psaki said.
"We place great emphasis, as you know, on the US-India energy partnership. It was an issue when the Secretary (of State, John Kerry) was there, and he even gave a speech talking about these issues -- a key element of our strategic partnership," Psaki said on Wednesday.
"In view of these important matters and in order to find the time to allow both sides to deliver on the important issues that we need to from both sides, we're looking for a mutually convenient time in the near future that will permit both sides to do that," she said.
"We remain committed to holding this dialogue and we'll look for a time to hold it," Psaki said.
Ties between India and US have suffered a setback after the arrest of Indian diplomat Devyani Khobragade in New York on alleged visa fraud charges last month.
The cancellation of Moniz's trip comes after US Assistant Secretary of State for South Asia Nisha Desai Biswal delayed her first visit to India, due on January 6.
Moniz's visit for the India-US energy dialogue was considered an important one for both the countries after a summit between US President Barack Obama and Prime Minister Manmohan Singh in the White House in September last year.
Both the leaders had identified co-operation in the energy sector as an important pillar of India-US strategic partnership. In fact, clean energy was the focus of Kerry's India visit last summer.
During their meeting, Obama and Dr Singh had discussed ways to strengthen bilateral efforts to promote energy efficiency, clean energy, and address climate change.
The US-India energy dialogue was launched on May 31, 2005 to promote increased trade and investment in the energy sector.
Five working groups had been set up under the initiative in areas of oil and gas, coal, power and energy efficiency, new technologies and renewable energy and civil nuclear co-operation.
Another working group on 'sustainable development' was added recently. The last India-US energy dialogue took place in September 2012.
Preparations were on to make significant progress on the US giving approval for LNG export to India during this visit, sources said.
India has been pushing the US to expedite this process to meet its galloping energy needs. The now postponed India-US energy dialogue was also expected to implement the decisions taken by Obama and Dr Singh with regard to clean energy.

Image: United States Energy Secretary Ernest Moniz will be rescheduled for a mutually convenient date, the State Department said.

Photograph: Win McNamee/Getty Images