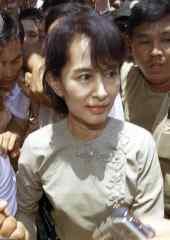 The United Nations Security Council held a close door meeting to discuss the situation after the junta government in Myanmar extended the house arrest of the country's democracy icon Aung San Suu Kyi.
The meeting was held at the request of France, which condemned Tuesday's verdict of a Myanmar court convicting the 64-year-old leader for breaching the terms of her detention. "The verdict is in clear violation and breach of the request made by the Security Council," Deputy French Ambassador to the UN Jean-Pierre Lacroix told reporters at the UN headquarters in New York.
Led by the three permanent members of the Security Council – United States, Britain and France, several members of the world body called for stronger action against the Burmese military junta.
British Ambassador to the UN John Sawers, who is the President of the Security Council for the month of August, told reporters that the consultations would continue today. Lacroix said a draft statement has been circulated by the United States among the 15-members of the UN Security Council.
However, there was no consensus on it. "We support that initiative, we support that draft. Some members of the Council have asked for some time to communicate this draft to their capital, and we respect that. But it is our firm position that there has to be a speedy and firm reaction of the Security Council," Lacroix said, demanding urgent action from the UNSC.
Both France and the US, however, acknowledged that there were differences within the Security Council on the issue. "We recognise that other members of the Council may take different views on this, and we think it is important nonetheless to have a discussion and a debate and to seek as a matter of principle and policy a statement by the Council in accord with the principles of the UN Charter and the principles of democracy and respect for human rights that we are committed to," US Ambassador to the UN Susan Rice said.
The statement drafted by the US and circulated among its members, among other things, condemns the conviction of Aung San Suu Kyi and calls for her immediate release and ability to participate in the political process. Earlier, UN Secretary-General Ban ki-Moon expressed his deep disappointment on the verdict and deplored the decision.
"The Secretary-General urges the government to immediately and unconditionally release Aung San Suu Kyi and to engage with her, without delay, as an essential partner in the process of national dialogue and reconciliation," said a statement issued by his spokesperson.
"Unless she and all other political prisoners in Myanmar are released and allowed to participate in free and fair elections, the credibility of the political process will remain in doubt," he said.
Image: A file photograph of pro-democracy opposition leader Aung San Suu Kyi | Photograph: Sukree Sukplang/Reuters