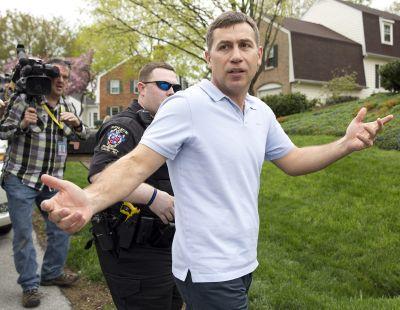 The estranged uncle of the Boston Marathon terror attacks suspects asked one of his nephew at large to surrender, saying his brother's children have brought shame to the entire Chechen community.
"This family does not know how to share their grief with the real victims," Ruslan Tsarni told reporters outside his home in Montgomery village, a suburb of Washington.
"Of course we're ashamed. He put a shame on our family. He put a shame on the entire Chechen ethnicity," Tsarni said.
In a public appeal, he asked 19-year-old Dzhokhar Tsarnaev -- one of the suspects who is at large -- to turn himself in and asked for forgiveness.
His brother Tamerlan Tsarnaev, 26, another suspect in the bombings, was shot dead on Friday.
The suspects were from a Russian region near Chechnya, which has witnessed deadly bombings carried out by rebels.
Both suspects led police officers on a wild and deadly chase through suburban neighbourhoods in Boston that ended in the death of Tamerlan and a MIT campus police officer.
Police have launched a full-scale manhunt for the second suspect, who is armed and considered extremely dangerous.
"Unbelievable -- he absolutely deserved this," Tsarni told the CBS in another interview.
"I always told those two, Islam has always been there, just do your business. Work, go to school, be useful. Know why you came to America ... I am not sympathizing with them," he said.
Tsarni said he has not seen his nephews since 2009 and have not spoken to them either in years.
He said his nephews immigrated to the US around 2000 or 2001, living in Cambridge the whole time.
Dzhokhar was attending college somewhere outside of Boston, he said.
"I respect this country and I love this country," he said about the United States.
Tsarni said "hatred toward those who were able to settle themselves," could have been responsible for the attacks.
He said that his nephew are "being losers".
Alvi Tsarnaev, another uncle, who lives about a mile from Tsarni, said he cannot believe what happened.
"I can't believe this, it's not possible," he said.
He said that he had not talked to them for two or three years because of some problems in the family.
"Yesterday he called me and said forgive me," Tsarnaev said, referring to Tamerlan Tsarnaev.
Image: Ruslan Tsarni, uncle of the Boston Marathon bombing suspects Dzhokhar and Tamerlan Tsarnaev, walks to his home in Montgomery Village, Maryland
Credit: Joshua Roberts/Reuters