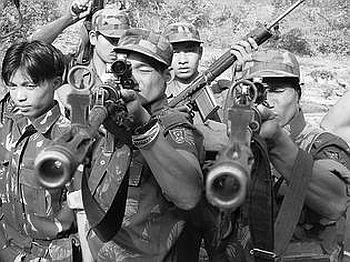 The Paresh Barua-led United Liberation Front of Assam has warned of bloodshed and violence if the state and central governments give shelter to any illegal immigrant in the state. The hardlining group has said that it would not hesitate in using arms to evict illegal migrants from neighbouring countries, who have settled down in Assam.
In the latest edition of its mouthpiece Swadhinata, which has been e-mailed to the
media, the ULFA(I) led by fugitive commander-in-chief Paresh Barua has denounced both the ruling Congress in Assam and the Bharatiya Janata Party, which is in power in Centre, for their stand to rehabilitate illegal Bangladeshi migrants.
It termed the state's decision to rehabilitate Bangladeshi migrants as suicide and anti-people. In its mouthpiece, it called the 'humanitarian decision' could only be taken by somebody who was mentally deranged.
Barua also criticised the BJP-led government at the Centre for treating illegal Hindu migrants from Bangladesh as refugees and said this move posed a serious threat to the identity of indigenous people in Assam.
It accused the Congress and the BJP of playing vote-bank politics and holding myopic stands when it came to the issue of illegal migrants in Assam. It further called upon organisations in Assam to take practical decisions to solve the problem of illegal migration from Bangladesh in order to save the indigenous people.