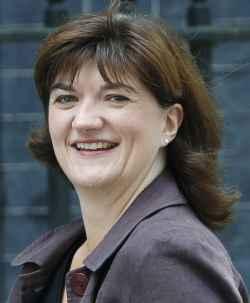 Britain's nurseries are at risk of Islamist extremism, the country's new education minister said on Friday, warning that funding of early-years education providers could be withdrawn if they are found to have links with religious radicals.
In her first major policy announcement since taking over from Michael Gove in a Cabinet reshuffle, Nicky Morgan stressed that toddlers should be taught "fundamental British values in an age-appropriate way" as part of a drive to protect children from religious radicals.
"One of the most important roles of the education system is that it should prepare young people for life in modern Britain," she said.
The minister announced new powers for local councils to stop funding early-years education providers with links to extremism.
"I am clear that public money should not be used to support any school or early-years provider that does not support this aim because it seeks to promote ideas and teachings that run counter to fundamental British values," she added.
The government will launch a consultation to seek views on the proposals from the public and early-years providers.
The latest crackdown follows a wider inquiry into the so-called "Trojan Horse" plot by religious extremists to take over school curriculum across Britain.
An official report into the scandal by Peter Clarke, Scotland Yard's former counter-terrorism chief, last month concluded there was a "coordinated" campaign by extremists to force out head teachers and impose an "aggressive Islamist agenda" on schools.
Morgan said there had been "disturbing" evidence that people with a "shared ideology" were trying to gain control of governing bodies in Birmingham.
Her latest move follows a letter-writing campaign by the British Humanist Association.
About 450 of its members responded to a recent government consultation, asking for funding to be withdrawn where there were concerns that nurseries were being run by people with "extremist views" or who promoted creationism as a scientific fact.
The Department for Education said the change closes "a technical loophole".
A spokesperson said the change brings nurseries into line with schools where funding can be withdrawn if there are concerns about "extremism", pending investigation by schools inspectorate Ofsted.
Image: Britain's mew education minister Nicky Morgan
Photo: Reuters