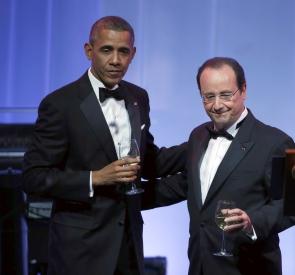 United States President Barack Obama compared America's relations with Britain and France to his affection for his two wonderful daughters and said he could not choose a favourite between the two closest allies.
"I have two daughters. And they are both gorgeous and wonderful, and I would never choose between them. That's how I feel about my outstanding European partners. All of them are wonderful in their own ways," Obama said as he cleverly dodged the tough question of describing his best European partner -- Britain or France.
Obama has two daughters Malia and Sasha.
He was speaking at a press conference at the White House with French president Francois Hollande during his three-day state visit to the US.
Obama said the US-French alliance has never been stronger. For his part, Hollande said: "We're not trying to be anyone's favorite."
"There are historic links, we share common values, and I can see that views converge on many issues," Hollande said.
"But it's not about hierarchy. It's just about being useful to the world, because the friendship between the United States and France is not just about strengthening our ties --economic ties, cultural or personal ties -- and that already would be a great deal. It's not just about bringing our two societies closer to one another," he said.
"What makes this friendship between the US and France is the fact that we can hold values at a specific point in time with this American presidency and with this French presidency, if I may say so," Hollande said at the joint White House news conference with Obama.
Image: US President Barack Obama and French President Francois Hollande share a toast during the State Dinner in honor of Hollande at the White House in Washington.
Photographer: Kevin Lamarque/Reuters