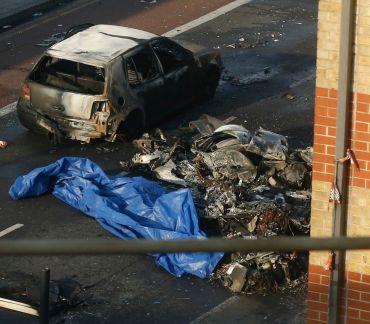 Two workmen have thanked the 'divine intervention' for their astonishing escape from death as a helicopter crashed into their crane and turned into a fireball.
The pair should have been in the cabin when disaster struck, sending burning debris cascading 700ft on to the rush-hour streets of London below.
Instead, Richard Moule and his colleague Nicki Biagioni were late for work -- both overslept for the first time in years -- and missed death by minutes.
Police officials said it was 'a miracle' that the toll was not higher after the helicopter had sliced through the crane 'as if it was a piece of paper', scattering wreckage over the streets of Vauxhall, South London.
"My colleague and I were both supposed to be there at 7am but we were both late. It was the first time I've been late since starting this job three years ago. I just woke up late. Call it divine intervention if you like," 31-year-old Moule said to the Daily Mail.
"I went in on my motorcycle and got there about 7.45am. I was in the basement ready to go up when it happened. I didn't hear any explosion. The first thing I knew was when an alarm went off and people were being evacuated," he said.

Moule, father of three children, immediately called his wife and informed him of his well being.
"The first thing I did was call my wife Stephanie and told her, 'You'll be hearing about this but I'm OK'. She gave me a big hug when I got back home,' he said.
Nicki Biagioni's wife Leanna later said that her husband, a father of three, had also overslept.

"He overslept this morning, something he never does and was late for work. He was not up the crane when it hit," she said.
The destruction happened near one of London's busiest transport hubs. Several key roads were closed, causing commuter chaos, as the emergency services battled fires.

"I thank my guardian angel," said Nicki Biagioni (30), the principal crane operator, who was over an hour late for work.

Friends said he was normally woken by his three children -- sons Rocco, six, four-year-old Dino, and Luca, two -- but on Wednesday they had slept in.
He was just arriving at the site on his motorbike and driving down a ramp to park in front of the crane as the helicopter hit.
On Wednesday, the helicopter crashed into a crane atop one of Europe's tallest residential blocks in central London killing two people, including the pilot, and injuring 13 others, as it plunged to the ground during rush hour and was engulfed in flames.