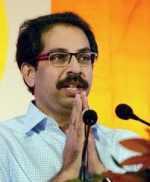 After putting to rest speculation that he would take his father's post of "Shiv Sena pramukh," party's executive president Uddhav Thackeray has been named editor of its mouthpiece
Saamana
.
"Uddhavji has been named editor of all publications of Prabodhan Prakashan," senior Sena leader Subhash Desai told PTI in Mumbai on Tuesday.
Desai is the publisher of Prabodhankar Prakashan, which prints
Saamana
(Marathi) and
Dopahar Ka Saamana
(Hindi). The newspapers are printed in Navi Mumbai.
Uddhav was recently vested with all powers to manage the Shiv Sena and would also be the editor of the party mouthpieces.
Bal Thackeray, who edited the two newspapers till his death on November 17, is now 'founder editor' of the dailies. His name continued to appear on the frontpage below the masthead as editor till Monday.
Uddhav's name does not appear on the masthead but only in the print line of the last pages of the two papers.
Saamana was founded on January 23, 1988, to convey Thackeray's views to the Marathi masses. Dopahar Ka Saamana, an eveninger, was launched on February 23, 1993, to reach north Indians settled in Maharashtra.
The newspapers sported full black front pages the day after Thackeray's death and the day after his public cremation at Shivaji Park in Mumbai.
Thackeray used to convey via the two newspapers his views through editorials, signed statements and interviews to party cadres.
The routine work at the newspapers will continue to be managed by executive editors Sanjay Raut (Saamana) and Prem Shukla (Dopahar Ka Saamana).