The government turned a blind eye to the manner in which some projects were being carried out in the state, reports Vicky Nanjappa reports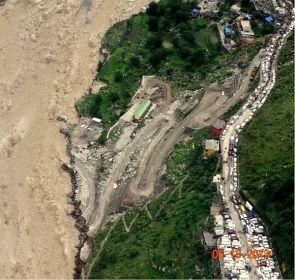 Rescue and relief work continue to be carried out in Uttarakhand where flooding due to heavy rains has wrecked havoc. Agencies involved in relief work say that the death toll is likely to go up to 500.
It may be too early to analyse what caused this destruction, but it now appears that it was man-made disaster waiting to happen.
Relief work by the Uttarakhand government clearly indicates that the authorities had failed to take into consideration the suggestions given by the National Disaster Management Authority.
The NDMA, which suggested a proper disaster management programme, had made it clear that a post-calamity action programme would not serve the purpose. It was also suggested that flood prone areas need to be regularly monitored.
An official with the Indo-Tibetan Border Police told rediff.com that they have a tough task ahead. "Relief work is in full swing. There are about 70,000 persons who are still stranded. We are going about in a systematic manner and it would require some time," the official said.
Locating missing persons has been a tough task. Severely affected areas are cut off and roads have been washed away. Many stranded roads are demanding they be airlifted.
The only warning, say experts, that did not come was from the meteorological department. The rains which hit North India earlier than expected caught everyone off guard.
But this disaster was waiting to happen. The government had turned a blind eye to the manner in which some projects were being carried out in the state.
Frantic mining activities and hydropower projects have been springing up in the region. The blasting and deforestation caused due to these projects has triggered landslides. The debris being dumped into the rivers has resulted in the water level rising unnaturally. This directly contributes to flash floods, say experts.
The diversion of rivers for the approximately 230 mining and power projects in Uttarakhand has also contributed to this disaster.