Even two-and-a-half years after the National Democratic Alliance came to power, people remember the previous United Progressive Alliance regime for corruption, Finance Minister Arun Jaitley said on Thursday, asserting that demonetisation would go a long way in curbing black money.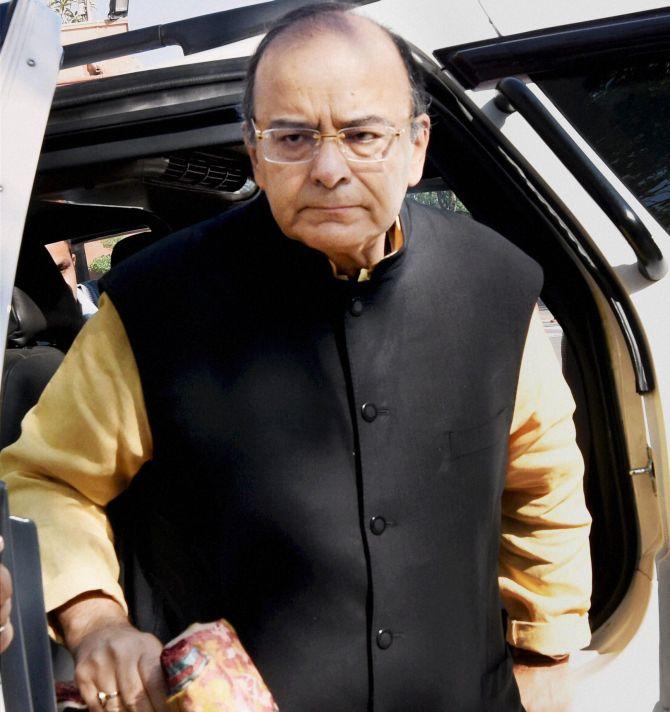 "The Narendra Modi government has completed half its term and people are still enthused. When corruption is discussed they refer to the UPA regime. There is not a single charge of corruption so far against the NDA," he said while speaking on 'Indian economy: The new normal' at a function.
Stating that people still feel inspired and enthused under the Modi government, the minister noted that resentment builds up with passage of time after a new dispensation takes over, but "there is no such feeling against the Bharatiya Janata Party-led regime".
Slamming the Congress and Left parties for focusing only on difficulties seen after demonetisation drive, Jaitley said they were completely ignoring the economic and moral objectives behind the move.
A lot of hardship, violence and killings were witnessed during the Independence movement and partition, the BJP leader said, adding had there been TV channels at that time, the difficulties would have been highlighted instead of the freedom.
He emphasised that despite the difficulties being faced after note-ban, people were welcoming the move as "they realised that the Prime Minister has displayed the required courage while taking a tough decision, aimed at curbing black money and getting it implemented."
Stating that the previous UPA regime has left behind a legacy of of "policy paralysis, indecisiveness and no-doing approach", Jaitley said the Prime Minister had taken a very courageous decision as he wanted to transform India.
"The thinking and system that remained the rule for 70 long years was changed and the status quo was given up, as the country is set to move away from being a developing nation to emerge as a developed country," he said, adding that confronting the new 'normal' in India was not easy.
However, the prime minister has redefined the "old normal" in India where black money, corruption and cash flow in elections was considered normal, Jaitley said, adding most activities earlier followed the practice of "so much in cash and so much in cheque."
Stating that replacement of around 86 per cent of old currency notes was bound to be a gigantic task involving time and difficulties, the Finance Minister said despite all these, 'honest' people in the country now felt that honesty was finally beneficial.
Hitting out at Left parties and Congress for raising questions about the move to promote digital currency, Jaitley asserted that paper currency was going to fall as the country moved towards a cashless economy.
Slamming the critics, he said the figure of digital currency in the form of debit and credit cards in the country stood at over Rs 80 crore, out of which cards worth around Rs 45 crore were in active use now.
Therefore, the use of digital currency is definitely going to increase in the country as people in crores have already started using it, he said, adding that after a few months the "temporary difficulties" seen following note-ban would disappear.
Stating that "re-monetisation would automatically follow demonetisation" with alternative currencies replacing the old ones, the minister added that lakhs of crores of rupees which remained outside the system was being brought within.
Referring to challenges before Indian economy, Jaitley said while global economic slowdown had its impact, banks had become weak and lost their ability to support the economy, affecting work in infrastructure and many other sectors.
"With demonetisation of high value currency notes, the banks are going to be flush with money, which would play a significant role in giving a boost to industrial, developmental and commercial activities," he said.
Demonetisation drive coupled with introduction of GST would definitely bring a better future for the country with safeguards against corruption, the minister added.
Photograph: Subhav Shukla/PTI Photo