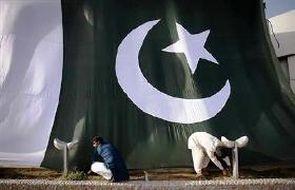 At least seven people were killed on Thursday in Pakistan in two separate blasts, including a suicide attack on the Pak-Afghan border apparently targeting soldiers.
In the first attack, two people were killed and seven others injured when a powerful bomb exploded near a mosque in north-western Khyber-Pakhtunkhwa province.
The bomb was planted in a motorcycle parked outside the mosque in Kacha Pakka area in Kohat district, about 50 kilometres south-west of provincial capital Peshawar.
"Between four to five kilogram's of explosive material was used in the bomb. I can confirm the death of two people and seven people were injured," District Police Officer Dilawar Bangashhe was quoted as saying in media report.
The bomb exploded as the worshippers came out after noon prayer on the first day of holy month of Ramadan.
Bangash said the explosion was carried out through a remote-controlled device.
Rescue and law enforcement agencies rushed to the site of the blast. The dead and injured have been rushed to a nearby hospital. The identity of those killed is not known.
So far nobody took responsibility of the attack but Taliban are active in the areas and frequently target the civilians and law enforcing agencies.
In the second attack, at least five people were killed and 10 others injured when a suicide blast occurred at the Chaman border crossing in the southwestern province of Balochistan.
The attack took place on the Afghan side of the border, and according to Frontier Constabulary officials six injured were rushed to Civil Hospital Chaman, Geo tv reported.
The Bab-e-Dosti checkpost was closed following the attack that apparently targeted the soldiers.
Pakistan is facing growing militant threat.
President Asif Ali Zardari's chief of security was killed in a suicide attack in southern port city of Karachi on Wednesday.