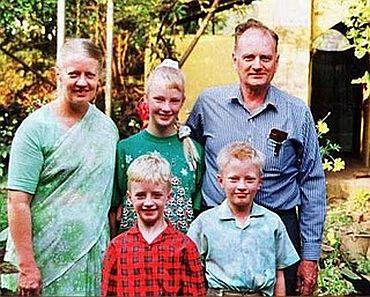 Fourteen years after Australian missionary Graham Staines and his two minor sons were burnt alive in Odisha, the Central Bureau of Investigation on Friday arrested two more accused in the case from Keonjhar district.
The two, identified as Ghanshyam Mahanta and Ramjan Mahanta, were picked up from Anandpur area by CBI sleuths in the early hours, Inspector In-Charge of Anandpur police station, Abhay Shankar Kar said.
While Ghanshyam was arrested from Gayalamunda village, Ramjan was nabbed from nearby Bhaludhera in connection with the killing of the trio by a mob on January 22, 1999, he said, adding the duo was taken to Bhubaneswar.
"Both the accused were taken to the CBI office in Bhubaneswar and interrogated by investigators," B K Pradhan, DSP in Special Cell of CBI, Kolkata told reporters in Bhubaneswar. Pradhan said the duo would be produced before the special CBI court shortly.
Staines, along with his two minor sons Philip and Timothy, was burnt alive on January 22, 1999 by a mob while they were asleep in their station wagon at Manoharpur village in Keonjhar district of Odisha.
Bajrang Dal member Dara Singh and 12 others were held guilty of the crime. While Dara Singh was initially awarded death sentence in the case, the 12 other convicts were sentenced to life imprisonment.
On September 22, 2003 a special court awarded death sentence to Dara Singh and life imprisonment to 12 others. However, the Orissa high court on May 19, 2005 had set aside death sentence to Dara Singh and commuted it to life imprisonment. The high court retained life imprisonment awarded to Mahendra Hembram, another accused, while acquitting 11 others.
On January 21, 2011, the Supreme Court upheld life imprisonment for Dara Singh by the Orissa high court and his accomplice Mahendra Hembram.