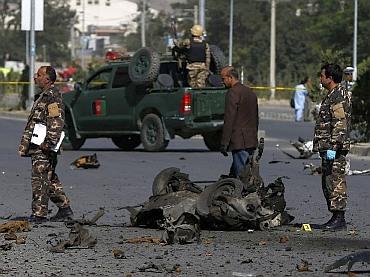 Two Indians were among five foreign guards killed in a Taliban suicide attack in Kabul.
Both Indians were employed as security guards with American company DynCorp, official sources told PTI.
They belonged to Kerala and arrangements were being made for the transportation of their bodies, the sources said.
A Taliban suicide attacker riding a motorbike killed the five foreign guards in Kabul on Tuesday. The attacker struck a compound near the outer perimeter of Kabul airport.

The Taliban used a recognised Twitter account to claim responsibility for the attack.
Afghanistan is on edge as the election dispute between poll rivals Ashraf Ghani and Abdullah Abdullah threatens to trigger political instability.
NATO combat troops will withdraw from Afghanistan by December. Civilian casualties have soared by 24 per cent in the first half of 2014, a UN report said.