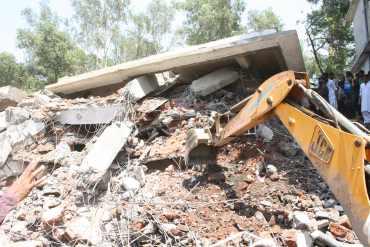 Two developers involved in construction of an illegal building which collapsed in Thane district on Thursday claiming 72 lives, were arrested on Saturday.
"Builders Jamil Qureshi and Salim Shaikh were arrested from their hideouts today," Thane Police Commissioner K P Raghuvanshi told PTI.
Qureshi was nabbed from Uttar Pradesh, while Shaikh was apprehended from Thane, he said.
Police had registered a case of culpable homicide not amounting to murder against the builders, who were on the run since the incident.
The seven-storey unauthorised building at Shil Phata in Mumbra in the district had come down crashing in a heap on Thursday evening, in the worst tragedy of its kind in Maharashtra, and by the time rescue operations were called off on Saturday afternoon, 72 people were dead.

Image: Rescue operations in the Thane building collapse were called off on Saturday | Photograph: Sahil Salvi