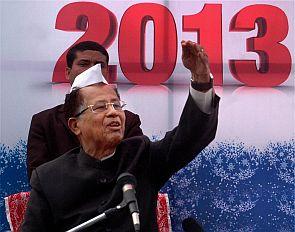 Having completed 12 consecutive years in office, Assam Chief Minister Tarun Gogoi on Saturday claimed to have neutralized 75 per cent of militants besides preventing the Maoists from setting up a firm base in the state.
On the CM's chair since May, 2001, Gogoi credited his success to strict vigil and development initiatives undertaken during his tenure.

Gogoi claimed that the recent arrests of several senior Maoist functionaries in Assam, including a central committee leader, had served a blow to Maoists' plan to gain a foothold and expand their base in the state.

"The Maoists have been trying to set base in the state. We had alerted the Centre about their design even before the latter could gather much information about it. We have been keeping a close watch on their activities and this strict vigil has served as an impediment for the Maoists," Gogoi said.

"Most insurgent groups are in talks or willing to come forward. Though a few hardliner factions are still at large there is no cause for worry, as these factions do not have much support among the people anymore," Gogoi said.

Meanwhile, the CBI is yet to respond to the Assam government's recommendation for an inquiry by into the killing of All India Central Council of Trade Unions leader Gangaram Kaul in Tinsukia in eastern Assam in March.

Gogoi said, "The Assam government has recommended a CBI enquiry into Kaul's killing. But we are yet to get any response from the CBI." He, however, added that the CBI's failure to respond so far does not necessarily imply that it will not take up the case and said the response can be delayed at times.

AICCTU leader Kaul, who was working for under privilege tea garden workers and launched a tirade against anomalies in public distribution system in local tea workers inhabited areas was alleged killed by 'Congress goons' on March 25 last.

Kaul's murder issue was also raised by trade union leader, Subhash Sen, during the inaugural session of 45th session of Indian Labour Conference at New Delhi on Friday.

Sen had reportedly interrupted Union Labour Minister Mallikarjun Kharge's speech, in the presence of Prime Minister Manmohan Singh and others, seeking a 'reply' from Dr Singh on the alleged non-progress in investigations into Kaul's killing.