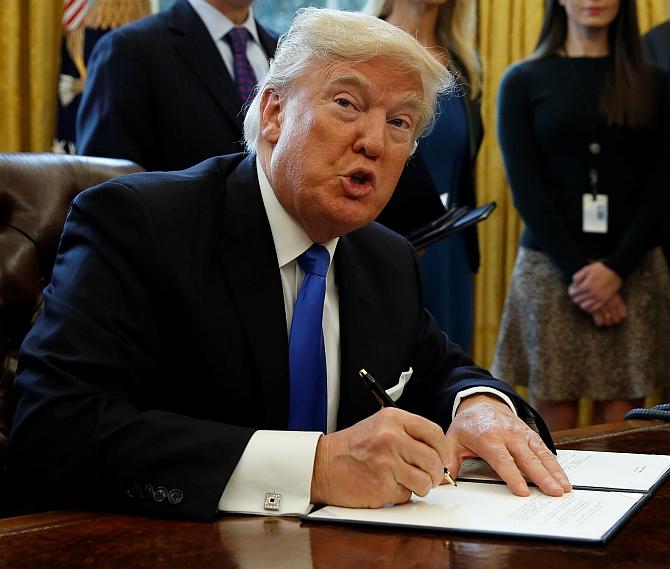 President Donald Trump on Friday said that he would issue a new executive order next week that would address the concerns raised by the court on his previous order that temporarily suspended entry of Syrian refugees and people from seven Muslim-majority countries into the United States.
10 members of Trump's Advisory Commission quit in protest of immigration policies
As many as 10 members of Trump's Advisory Commission on Asian-Americans and Pacific Islanders have resigned to protest against some of his policies on immigration, including visa ban on travellers from seven Muslim-majority nations.
'Although the Commissioners' term ends 9/30/17 (sic), we can no longer serve a President whose policies aim to create outcomes that are diametrically opposite to our principles, goals, and charge,' said the letter signed by 10 of the members of the Commission, all of whom were appointed by the previous President.
The letter, dated February 15, referred to some of the policies of the Trump Administration including visa ban, repeal of affordable care act, increased border and immigrant enforcement, as well as building a wall between Mexico and the US as some of the reasons for their resignation.
'We object to your portrayal of immigrants, refugees, people of colour and people of various faiths as untrustworthy, threatening, and a drain on our nation,' the letter said.
The Commission had 20 members. Six of them had already resigned on January 20 when Trump was sworn in as the 45th President of the United States. Now only four commissioners are left.
'We urge you and every member of your administration to respect all Americans by protecting civil rights and civil liberties for everyone, promoting broader dialogue and understanding, and keeping the federal government accessible to all people living in the United States – regardless of their status as citizens, immigrants or refugees,' the letter said.
"The new (executive) order is going to be very much tailored to what I consider to be a very bad decision, but we can tailor the order to that decision and get just about everything, in some ways more," Trump told reporters at a hurriedly convened White House news conference.
Soon thereafter the Justice Department approached a federal court in San Francisco for a pause in the proceedings.
The 9th US Circuit Court of Appeals in its order late Thursday put the proceedings of the case on hold.
Last week, the court had refused to lift the hold on Trump's executive order by a federal court in Seattle.
In Trump's January 27 executive order, there was a ban on people from Iran, Iraq, Libya, Somalia, Sudan, Syria and Yemen from entering the US for 90 days. Refugees were banned for 120 days, except those from Syria, who were banned indefinitely.
Trump told reporters that his new executive order is being tailored. "We have some of the best lawyers in the country working on it. And the new executive order is being tailored to the decision we got down from the court," he said.
However, he did not give details of the new order.
Trump criticised the court order suspending the travel ban as 'a very bad decision, very bad for the safety and security of our country. The rollout was perfect'.
"We've vetting very, very strongly. Very, very strongly. But we need help, and we need help by getting that executive order passed," he said.
The new executive action next week, he said, will comprehensively protect the country.
"We will be going along the one path and hopefully winning that. At the same time, we will be issuing a new and very comprehensive order to protect our people, and that will be done some time next week, toward the beginning or middle at the latest part," he said.
Meanwhile, Washington State Attorney General Bob Ferguson who was instrumental in filing the case against the executive order claimed victory.
"Let's be clear: Today's court filing by the federal government recognises the obvious -- the President's current Executive Order violates the Constitution. President Trump could have sought review of this flawed Order in the Supreme Court but declined to face yet another defeat," he said.
Ferguson alleged that the Executive Order violates the US Constitution's guarantee of Equal Protection and the First Amendment's Establishment Clause, infringes individuals' constitutional right to Due Process and contravenes the federal Immigration and Nationality Act.
'Intelligence leaks to be reviewed'
President Trump has said he might take the services of a New York billionaire to review American intelligence agencies and the leaks flowing out of them which have fuelled a string of damaging news reports on his administration.
Trump said that Stephen Feinberg, co-founder of Cerberus Capital Management, has offered his services and he might tap him to look into the leaks. He described Feinberg as a very talented and successful man.
"He has offered his services and, it's something we may take advantage of," Trump said.
"But I don't think we need that at all because of the fact that you know, I think that we are going to be able to straighten it out very easily on its own," he added.
Trump said Mike Pompeo is now heading the CIA and James Comey was in charge of the Federal Bureau of Investigation while hoping that Dan Cote would soon be confirmed for the position of Director of National Intelligence.
"I hope that we'll be able to straighten that out without using anybody else," he said.
During the news conference, Trump publicly vented out his anger and frustration at the leaks of classified information including his own conversation with some of the top leaders of the world.
He said the information about his conversation with heads of States of Mexico and Australia was leaked which prompted him to demand the resignation of his national security advisor Michael Flynn.
"All this information gets put into the Washington Post and gets put into the New York Times and I'm saying what's going to happen when I'm dealing on the Middle East? What's going to happen when I'm dealing with really, really important subjects like North Korea? We got to stop it. That's why it's a criminal penalty," Trump said.
The renewed focus on tracking down leaks comes following Flynn's resignation amid reports that he misled Vice President Mike Pence about a phone call with a Russian diplomat. Flynn's alleged deception was revealed by leaks.
While Trump apparently sought Flynn's resignation, the episode swiftly rekindled the President's feud with the intelligence community.
'It would be great if we could get along with Russia'
Batting for warm relations with Russia, Trump said it is a 'good thing' if the US gets along with Moscow as both the countries are nuclear powers.
"It would be great if we could get along with Russia, just so you understand that. Now tomorrow, you'll say Donald Trump wants to get along with Russia, this is terrible. It's not terrible. It's good," Trump told reporters at a White House news conference.
He was responding to a series of questions on some of the recent provocative behaviour of Russia.
Asked if Putin was testing him, Trump said he did not think so.
"No, I don't think so. I think Putin probably assumes that he can't make a deal with me anymore because politically it would be unpopular for a politician to make a deal. I can't believe I'm saying I'm a politician, but I guess that's what I am now. It would be much easier for me to be tough on Russia, but then we're not going to make a deal," Trump said.
Trump said he wanted to do right thing for the world.