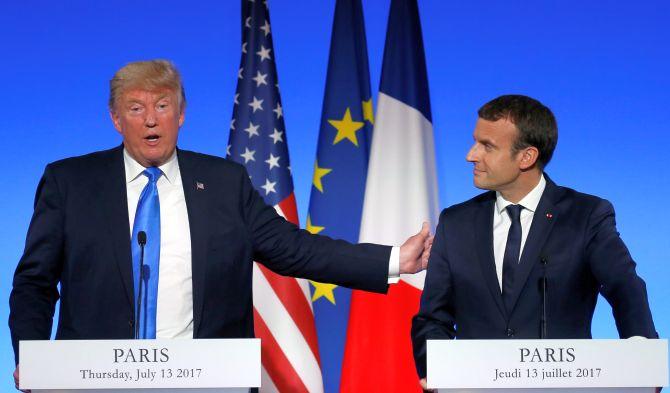 United States President Donald Trump on Thursday suggested that he could change his position on the Paris climate accord, in remarks after talks with his French counterpart Emmanuel Macron.
"Something could happen with respect to the Paris accord," he said at a joint news conference with Macron weeks after announcing that the United States would abandon the 2015 pact, adding: "We'll see what happens."
Macron told the conference he "respected" his US counterpart's decision to pull out of the Paris climate accord but that France remained committed to the 2015 pact.
"I respect the decision of President Trump," Macron told a joint news conference in Paris.
"As a result he will lead the necessary thought and work that correspond to his campaign promises. For my part, I remain committed to the Paris accord," he added.
Earlier, the 39-year-old French leader said he had a "strong disagreement... about the climate" deal, with Trump, adding: "I hope in the end to be able to persuade him."
IMAGE: US President Donald Trump and French President Emmanuel Macron attend a joint news conference at the Elysee Palace in Paris. Photograph: Gonzalo Fuentes/Reuters