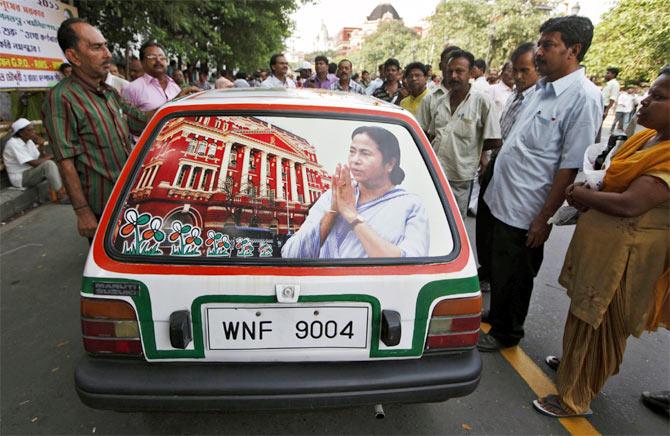 Riding a pro-Mamata Banerjee wave in West Bengal, the ruling Trinamool Congress on Monday scored a resounding victory in the civic elections.
It won four out of the five municipal bodies, including the prestigious Howrah Municipal Corporation. The party swept the polls in the Jhargram and Krishnanagar civic bodies and retained that in Medinipur, while winning a couple of seats for the first time in Congress leader Adhir Chowdhury's bastion Behrampur.
In the Howrah Municipal Corporation elections, the TMC steamrolled the Left Front, winning 41 wards of the 50-member body.
The Left Front, which had 33 seats earlier, managed only two while the Congress bagged four and the Bharatiya Janata Party two.
While BJP candidate Gita Roy defeated heavyweight Mayor Mamta Jaiswal of the Communist Party of India-Marxist in Ward No 13 in a four-cornered contest, deputy Mayor Kaberi Moitra of the CPI lost to TMC's Sabitri Devi Shaw.
Counting in Ward No 44 is yet to be taken up owing to re-polling in one booth scheduled later this week.
The CPI-M-led Left Front, which has been winning the Howrah municipal elections since the formation of the civic body in 1984, was relegated to a pathetic third. Their woes were further compounded as the party drew a blank in the Behrampur Municipality in Murshidabad district. There the TMC bagged two seats while the Congress won the remaining 26 wards.
In Krishnanagar, the TMC dislodged the Congress from power winning 22 of the 24 seats, while the remaining two wards went to the Independents.
Commenting on the results, TMC all-India General Secretary Mukul Roy told reporters, "People have again expressed their faith in Chief Minister Mamata Banerjee and her policies and vision for development."