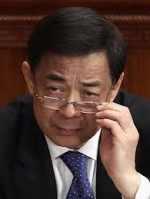 China's disgraced Communist Party leader Bo Xilai, who was sacked over allegations of sex, sleaze and corruption, has been handed over to judicial authorities for the trial to commence.
The discipline body of the ruling Communist Party of China, told the media in Beijing on Wednesday that Bo, 63 along with former railways minister Liu Zhijun, indicted for corruption have been handed over to judicial authorities, state-run Xinhua news agency reported.
A total of 4,698 county-level cadres or higher-level cadres were punished by the CPC discipline watchdogs in 2012 and 961 cadres at county-level or above have been transferred to judicial organs, the disciplinary committee spokesperson Cui Shaopeng said.
Bo's trial was expected to begin soon in Beijing. A former commerce minister and a "princeling", Bo, was sacked last year as the party chief of Chongqing, a city with 30 million people where he ran an iron fisted administration with campaigns against crime syndicates earning the reputation of highly dictatorial leader.
A pro-Mao ideologue, he was due to contest for the top post of the party in last November once-in-a-decade leadership change conference where pro-reform leader Xi Jinping was elected as successor to Hu Jintao.
Bo was expected to rally the hardliners and offer a stiff fight in the party to get elected to the all-powerful seven-member Standing Committee of the politburo. But he fell from the grace after his wife Gu Kailai had got involved in the murder of a British businessman, Neil Heywood.
Bo's close aide and head of the city police wing, Wang Lujin, who investigated the case, fled to the US consulate in Chengdu and sought asylum-fearing reprisals from Bo, which created national furore.
In the subsequent trials, both Gu and Wang were convicted after they admitted to the roles.
While Gu was given a suspended death sentence, Wang was sentenced to a 15-year prison term.
According to the official media reports earlier, investigations have found that Bo seriously violated party disciplines while being the head of Dalian City, Liaoning province, and the ministry of commerce, as well the party chief of Chongqing.
Bo was accused of taking advantage of his position to seek profits for others and received huge bribes personally or through his family, it said.
He was also accused of maintaining improper sexual relationships with a number of women and found to have violated organistional and personnel disciplines and made erroneous decisions in certain promotion cases, resulting in serious consequences. It is to be seen when Bo's trial would begin and what sentence he would receive.
Analysts say that Bo's fall and his removal especially after the US consulate drama has made it easier for the moderate to isolate the hardliners and pack the party with followers of later reformist leader Deng Xiaoping, who succeeded Mao. 
Former high profile railway minister Liu Zhijun, 59 was also accused of corruption, keeping mistresses, and perpetrating political and moral wrongdoings. He was the longest railway minister supervising most China's high-speed train network construction.
Liu was appointed vice minister of railways in 1996 and minister in 2003.
He was removed from his post and came under investigation in February 2011.