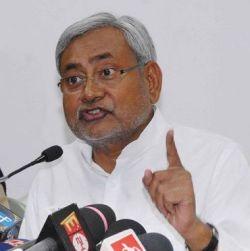 With the railways blaming the Bihar government for the train disaster at Dhamara Ghat in Khagaria district which claimed 28 lives, Chief Minister Nitish Kumar on Wednesday dubbed Railway minister of state Adhir Ranjan Chaudhury's remarks in this regard as "highly irresponsible."
"From the newspaper report his statement in this regard appears highly irresponsible," Kumar told mediapersons reacting to the comments of Minister of State for Railway at Patna Airport on Tuesday on return from Dhamara Ghat station.
"By giving such comments he has made a fool of himself," Kumar said, in angry response to the minister's remarks.
Chaudhury who had visited the accident site past midnight on Monday and also met the injured at Khagaria hospital before returning to Delhi via Patna yesterday, had blamed the Bihar government for the Saharsa-Patna Rajya Rani Express mowing down pilgrims.
He told reporters at JaiprakashNarayanAirport that, "The local administration did not alert the railways about the large congregation of pilgrims for the mela (fair) at the Katayani temple so that we could have taken some measures."
"There was no proper coordination by the local administration with the Railways for making the necessary arrangement in view of the fair at the temple on the last Monday of Shrawan," Chaudhury had added.
The minister said that the state government gets so much of funds from the Centre under the Prime Minister Gramin Sadak Yojna from which it could have constructed a road to this remote place.
The Rail MOS had also dismissed the death figure of 37 given by Nitish Kumar and said "probably he (Nitish Kumar) mixed up the figures of dead and injured to say that 37 persons died in the mishap at Dhamara Ghat."
The Bihar CM had on the day of accident itself dismissed any lapse on the part of the state administration. Kumar had talked to Railway minister Mallikarjun Kharge and to the General Manager of East Central Railway Madhuresh Kumar four times promising all cooperation and medical assistance for the victims on the day of the accident.