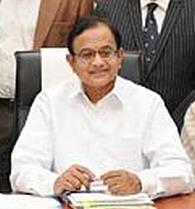 Faced with the Supreme Court rap on the independent functioning of the Central Bureau of Investigation, the Group of Ministers headed by Finance Minister P Chidambaram on Thursday discussed ways to give greater autonomy and more financial powers to the agency.
The GoM, at its first meeting, was given a power-point presentation by the department of personnel and training, in which it opposed scrapping of the provision which requires the CBI to seek the government's permission before probing an official of the rank of joint secretary and above in corruption cases.
The proposal to grant more financial powers to the director of CBI did not find much support in the meeting which was attended by Chidambaram, Law Minister Kapil Sibal, External Affairs Minister Salman Khurshid and Minister of State for Personnel V Narayanasamy, sources privy to the meeting said.
Home Minister Sushilkumar Shinde could not attend the meeting as he is away in the United States.
Emerging from an hour-long meeting, Chidambaram told reporters, "We were briefed by department of personnel on the Supreme Court order. We identified the issues that need to be addressed."
He said Attorney General Goolam E Vahanvati has been invited to the next meeting as he had appeared in the matter and there was a mention about him in the Supreme Court order.
The sources said CBI Director Ranjit Sinha would make a presentation before the GoM at a later stage. Some members of the GoM talked about giving more financial powers to the agency but the move could see similar demands being made by chiefs of other forces and agencies.
In its presentation, the DoPT, which is the nodal body governing CBI, opposed any proposal to scrap Section 6A of the Delhi Special Police Establishment Act which requires the agency to seek permission of the central government before initiating a probe against an official of the rank of joint secretary and above in a corruption case, the sources said.
The ministers discussed whether the changes in the agency's working should be cosmetic or comprehensive and it was decided that considering the public mood, comprehensive changes should be brought about.
The GoM was constituted by Prime Minister Manmohan Singh to prepare a draft law to insulate the CBI from external influence and a draft affidavit to be presented in the Supreme Court, which had made scathing observations on the agency while hearing the coal bloc allocation scam case.
Kapil Sibal said the discussion was a "very preliminary", where the DoPT gave a presentation on legal provisions.
The GoM will deliberate on ways to further strengthen the CBI's autonomy and safeguard it from any kind of outside interferences, the sources said.
The government's move to constitute the GoM had come after the Supreme Court had indicted CBI for being a "caged parrot" of its political masters while hearing a case related to alleged irregularities in coal blocks allocation.