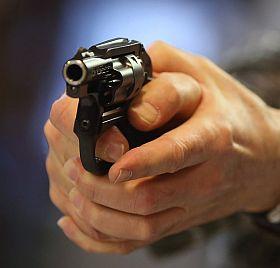 A three-year-old girl in the US accidentally shot her two-year-old brother with a rifle, the fourth such incident in the country this month involving children.
The boy, whose name was not released, was shot in the stomach with a .22-caliber rifle that was used earlier in the day and then left in the living room of the home in Cache County, Utah. "This is a stark reminder of the importance of keeping guns locked up and denied access to young people," Mike Peterson, Cache County's sheriff lieutenant, was quoted as saying. "This is a very tragic incident, but one that is preventable," he added. "The gun was in an unloaded state but did have live rounds in the magazine. We believe the three-year-old had to manipulate the action enough to chamber a live round," Peterson said. The boy's mother heard the gun shot from another room and called for help, according to Peterson.
He said the boy was taken to Logan Regional Hospital, where he was rushed into surgery. The boy was later flown to Primary Children's Hospital in Salt Lake City, where he died.
While police believe the incident that happened on Friday was accidental, Peterson said the investigation was ongoing and will be reviewed by the county attorney's office to decide whether charging the parents is warranted.
Meanwhile, in another such incident, a six-year-old boy accidentally killed a woman in South Carolina when he shot a loaded gun he found in a car. The fatal shooting occurred last Thursday afternoon as the boy's father was driving a car in Easley. Alexandra Anita Santos, 22, was riding in the front passenger seat when the boy fired the gun and the bullet travelled through the seat, police said. There have been a slew of shooting incidents in the US recently involving children who accidentally shoot someone or die of a self-inflicted gunshot wound.
Earlier this month, a five-year-old boy accidentally shot and killed a seven-year-old girl while playing at a birthday party in Gaston, South Carolina. In a separate incident, a two-year-old boy accidentally shot and killed his 11-year-old sister while playing with a handgun in Philadelphia.
Image for representational purposes only.