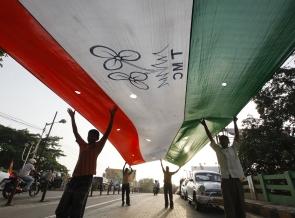 Sporadic violence was reported on Thursday in the fifth and last phase of panchayat elections in West Bengal covering four districts of north Bengal with 30 per cent voter turnout reported till noon.
At least seven Communist Party of India-Marxist supporters were injured in clashes with Trinamool Congress workers since Wednesday night in Jalpaiguri district.
Three persons were injured at Talguri in the Maynaguri police station area during a clash on Thursday while another person was hit on the head when he was going to cast his vote, the police said. All four persons were stated to be CPI-M supporters.
In another clash on Wednesday night, three CPI-M supporters were injured at Paharpur area of the district, the sources said. One of the three injured was admitted to hospital. Several people were injured at a clash on Thursday at Swastir Hat in Maynaguri block, but it was not confirmed by the police.
Around 500 CPI-M supporters alleged that they were not allowed to vote by Trinamool Congress activists at Pukurjan village in the Jajganj block of the district.
The polling remained by and large peaceful with a 30 per cent voter turnout till noon in the four districts of North Dinajpur, South Dinajpur, Coochbehar and Jalpaiguri, according to state Election Commission officials.
Twenty persons have lost their lives in poll-related violence in the previous four phases.

Image: Reuters