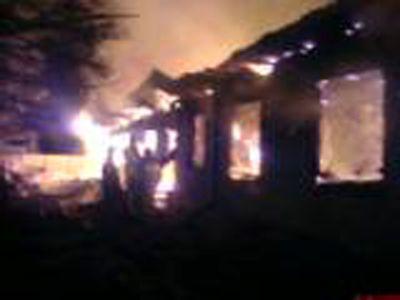 A pre-dawn blaze at a Russian psychiatric hospital on Friday killed 38 people, mostly patients, who died in their sleep inhaling the fumes, officials said.
The fire, which broke out at about 3 am local time in the one-story hospital in the Ramenskoye settlement on the outskirts of Moscow, was caused by a short circuit, Russian news agency RIA Novosti quoted police officials as saying.
"According to preliminary reports, 38 people died, including two medical personnel," a health ministry spokesman, Oleg Salagay, was quoted as saying by the news agency.
"Three people survived -- a medical nurse lead two patients out of the burning building," Salagay said, adding that a total of 41 people were believed to be in the building at the time of the fire.
Citing a police source, the agency said that most of the patients died in their sleep inhaling the fumes.
Firefighters found the bodies of 12 people, according to Itar-Tass news agency. Four were found near the exit of the hospital, while eight others were found in the wards.
The hospital had bars on its windows, preventing people from escaping. Most of the bodies were found still in their beds. There were patients with acute psychosis, alcoholics, a drug addict and patients with schizophrenia, a doctor said.
"The fire started when they were asleep," Itar-Tass quoted a law enforcement source as saying.
"Some of them tried to escape but were poisoned by the products of combustion," he said. The fire has been fully extinguished but the building "burned down almost completely."
The emergencies ministry has published a list of 41 patients and medical staff who were inside the facility when the fire started. The patients ranged in age from 20 to 76.
Image: A view of a fire at a psychiatric hospital north of Moscow taken from video footage.
Credit: Reuters/Russian Emergencies Ministry/Handout