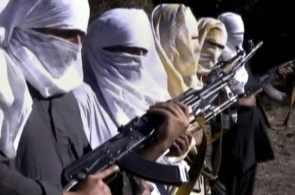 Pakistani police have arrested three university students in the central city of Multan on charges of having links with the banned Tehrik-e-Taliban Pakistan, officials said on Tuesday.
The administration of Multan Press Club nabbed Usman Ghani Makki, a student of Bahauddin Zakariya University, at 2 am on Monday while he was pasting a Taliban poster warning people against participating in next month's general election.
Makki, a student of the architecture engineering department, was handed over to police. Subsequently, the police on Monday arrested two more students of the same university for allegedly having links with the Taliban.
Muhammad Hanif and Muhammad Afzal were arrested with the help of the varsity's administration from a hostel. They are roommates and students of the architecture engineering department. The police found Islamic literature, an axe and a laptop from the accused.
Ammanullah, the university's resident officer, said the students had been taken into custody for interrogation.
Vice Chancellor Khwaja Alqama constituted an inquiry committee to probe reports that some students had links with banned militant groups. The committee is expected to submit its report within 24 hours.
Sources said the police were conducting raids to arrest another student of the same department who was said to be Makki's accomplice. The police lodged an FIR under the Anti-Terrorism Act against the accused.