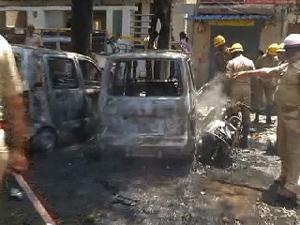 A couple and their two children were injured in a small LPG cylinder blast in their house in Sarai Kale Khan area of South Delhi on Friday, the police said.
Incidentally, two similar incidents, one at Pitampura in North-West Delhi where a PNG gas pipeline caught fire and the other in Matiala in West Delhi where a fridge compressor blast took place, caused a panic like situation as all the blasts took place almost at the same time.
However, senior police officials soon clarified that these were separate incidents with no link to each other. They also ruled out any foul play in the cases.
In the first incident, a small LPG gas cylinder caught fire in Sarai Kale Khan area of South Delhi while cooking at around 1 pm in which a husband and wife and their two children suffered burn injuries. Their landlord informed police after which those injured where rushed to hospital in CATS ambulance.
The second incident took place in Pitampura area of North-West Delhi when a PNG gas pipeline leaked into a nearby sewer and caught fire following which fire tenders were rushed to the spot which soon doused the fire.
In another incident, compressor of a fridge burst causing a minor fire at a house in Matiala area in Uttam Nagar around the same time. Nobody was injured in the incident, the police said.