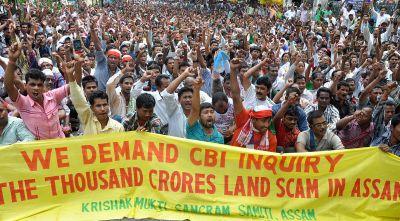 Vehicular traffic came to a halt in many parts of Guwahati city on Thursday for hours as thousands of landless farmers stormed the city demanding land and denouncing government's design to allot agriculture land to industrialists at throwaway prices flouting all norms.
Krishak Mukti Sangram Samity led by RTI activist and Team Anna member Akhil Gogoi organised the massive protest rally of landless people from 18 districts of Assam numbering over ten thousand who have poured into the city during the last two days.
They finally gathered in front of the deputy commissioner's office in the heart of the city demanding a positive response from the government to their demands for allotment of land and formulation of a progressive land settlement policy in the state.
The KMSS protestors also demanded Central Bureau of India investigation into the alleged "mega scandal" related to allotment of thousands of bighas of agriculture land to several industrialists at very low rate and subsequent 'illegal' conversion of agriculture land to industrial land by these industrialists.
The KMSS has threatened to stall a mega housing project of one of these industrialists on one such big plot of agriculture land near Guwahati if the government failed to recover that precious plot of land illegally allotted to the industrialist.
The KMSS demonstrators continued to agitate from 10 am to about 3-30 pm registering their vociferous protests.
KMSS general secretary Kamal Medhi said that agricultural land on both sides of the arterial national highways passing through the state had been procured by hook or crook by outside industrialists in connivance with 'unscrupulous' officials from the revenue department of the state at the cost of agri sector.
Seeing the fury of the mega protests, Assam government's revenue department organised a meeting at the state secretariat with Gogoi to discuss the issues raised by the organisation, according to an official source.
Coming back to protestors from the meeting the KMSS leader claimed that he found the attitude of the government positive towards their demand and it promised to formulate a progressive land settlement policy soon and investigate into illegal allotment of agriculture land to industrialists as very low price.
The KMSS leader said the agitation of the landless farmers won't relent unless government accepts their demands and provide land to the landless farmers in the state.
Image: Thousands of KMSS-backed landless farmers protest in Guwahati on Thursday