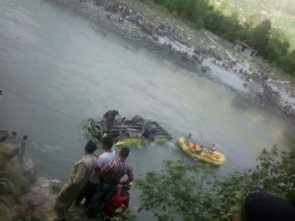 At least 32 passengers were killed when an overloaded private bus plunged into Beas River on Kullu-Mandi national highway on Wednesday.
Thirty-two bodies have been recovered and 15 injured persons rescued and rushed to hospital, while some bodies are feared to have been swept away in the river, Deputy Commissioner, Kullu, Sharab Negi, said.
The ill-fated bus, with more than 60 passengers on board, was on its way to Ani from Kullu when it skidded and fell into the river near Jhiri, 20-km from Kullu. The bus driver jumped off the vehicle before it plunged into the river, Negi said.
Search parties were deployed to trace the missing.
Deputy Commissioners and SPs of Kullu and Mandi districts supervised the rescue operations. Two reporters of Divya Himachal were also travelling in the bus and one of them received injuries while the other was missing, Negi said.

Image: TV grab of the bus accident near Shimla