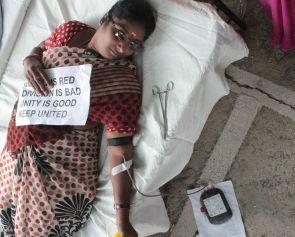 The state of Andhra Pradesh is already going through a messy phase and things are all set to deteriorate in the coming days.
Anti-bifurcation protests have paralysed normalcy in Seema-Andhra regions for the past few weeks, but things will drift further down as pro-Telangana groups will commence counter-protests from Monday.
The fear among the people of Telangana is that the Union government may try and delay the formation of the separate state looking at the intensity of the protests in the Seema-Andhra regions. The political and students joint action committees in Telangana have decided to commence their agitation from Monday.
They are also mulling a "million march" in which one million people are expected to take part. This strike would also have the support of the Telangana employees' union.
Meanwhile protests continue unabated in the Seema-Andhra regions. In fact they are planning on intensifying the protests However, all eyes are on the Parliament and the each one is waiting to find out if any of the Seema-Andhra MPs would be suspended by the Congress for disrupting proceedings.
The fall out of such a suspension would be directly on the nine ministers from the Seema-Andhra region. They would be under immense pressure to resign in order to save their vote bank as there is a likelihood of the suspended MPs becoming heroes.
Politically too there is a lot at play in the Seema-Andhra region today. The Congress no doubt is worried about the growing clout of Jaganmohan Reddy's YSR Congress Party uin the region. Moreover Jagan's mother Vijayamma has put out successful shows in the past couple of days seeking a united Andhra Pradesh.
All the employees' union are leaning towards the YSR Congress which has announced its unconditional support to any strike seeking the unification of the state.
The Congress through Majlis-e-Ittehadul Muslimeen leader Akabaruddin Owaisi made one more attempt to pacify Jagan to join hands with his former party. He has held at least three meetings with Jagan and the last one was a few days back. However, Owaisi has been turned down by Jagan on all three occasions. Jagan feels that he can win on his own and hence allying with the Congress is of no use to him.
Meanwhile some of the Congress leaders from Seema-Andhra have been trying to convince the party high command about launching a dummy party. The idea is to come out of the Congress and launch a party which will protest against the bifurcation of the state. The leaders think this would help them electorally and after the elections they would tie up with the Congress.
The proposed move was also being considered by Chief Minister Kiran Kumar Reddy; however, the high command denied the permission.
The CM later rubbished the news, terming it as "speculative".
Image: An anti-Telangana activist donates blood during a protest in Hyderabad
Photograph: SnapsIndia