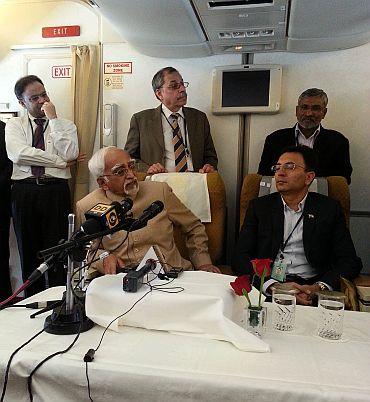 Vice President Hamid Ansari, a former diplomat himself, explains his sense of India and the world. Rediff.com's Nikhil Lakshman, traveling with Vice President Ansari to Peru and Cuba, listens in.

"Fidel Castro was the star at the Non Aligned Movement summit in 1983," Vice President Hamid Ansari reminisced on his way to Cuba.

"When he came to New Delhi," the vice president, who then served as India's chief of protocol, recalled, "We had standing instructions from Prime Minister Indira Gandhi that whatever he wanted should be given to him."

"He was and is a remarkable leader," Ansari, who will meet with Castro, the ailing commandate's health willing, on October 30, he added.

"Cuba is a particularly friendly country," Ansari, who was a member of the Indian Foreign Service for 36 years, said. "It is in many ways a unique country. It has sailed its craft in adverse waters for a very long time. It speaks volumes for its skills that it has not only survived, but also done well."
Asked about the relevance of his week-long journey to "far-off" Peru and Cuba, the vice president said, "The world is contracting and there is no such thing as a far-off country. Every country has the potential to be your partner. Peru is increasingly a major factor in the global economy and an important source of minerals which we are looking at very closely."

"As a major economy," Ansari said, "We are looking at all corners of the world."

The vice-president did not agree with Rediff.com's contention that Indian diplomacy had failed to keep apace with the current thrust of trade-led diplomacy, and that China had stolen a march, especially in its dealings with countries like Peru.

"Our diplomacy was always comprehensive," the former diplomat said, adding, "It was always political, always economic. Our requirements kept changing. In the 1970s, in the 1980s, we had different needs. Our capabilities have increased now, so our engagements have increased."

"We have political engagement, we have economic engagement," he said, responding to another question. "What takes precedence depends on the situational adjustment at that particular point of time."

"Our economy needs resources," Ansari said, citing another anecdote to make his point.

Agricultural scientists had wanted a sapling from a tree which only grew in Mexico, to boost afforestation programmes.
Prime Minister Indira Gandhi promptly requested the then Mexican president to bring the shrub when he came to India, which the visiting leader happily did.

Image: Vice President Hamid Ansari interacting with media persons on board the special aircraft that is taking him on the important trip to Latin America.
Photograph: Nikhil Lakshman