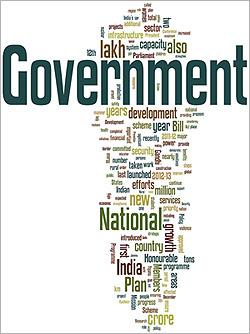 President Pranab Mukherjee's maiden address to both Houses of Parliament at the start of its Budget session on Thursday, was all of 6,370 words long.
You can read the full text of his speech on Rediff.com here.
What were the words that President Mukherjee used the most in his speech?
The word cloud alongside gives the full break-up of the President's speech, the size of the word signifying the frequency with which it was used.
'Government' tops the list, which is natural as the Head of State's speech is meant to spell out the Union government's agenda.
'National' was another frequently used word, as were 'India,' 'Plan,' 'Crore,' 'Lakh' -- all used in terms of the nation's economic development and the Plan outlay.
Among the least used words, surprisingly, were 'Growth,' 'Security,' 'Rural,' 'Development,' 'Infrastructure'...
Please click on the image for a larger view.