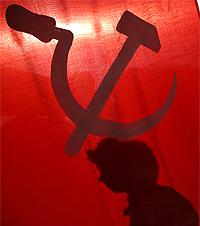 The National Investigation Agency, which will probe the shocking Naxal attack in Chhattisgarh, is seeking information about an operative named Gaganna alias Ramesh.
The preliminary investigation has revealed that Gaganna was the leader of the operation.
Gaganna and fellow Naxal leaders had been planning the strike for the last six months.
They had singled out Salwa Judum founder Mahendra Karma and state Congress chief Nand Kumar Patel as the primary targets. The planning and execution of the strike was handled by Gaganna, who is a senior operative in the left-wing extremist hierarchy.
According to investigating officials, Gaganna is approximately 45 years old and hails from Karimnagar in Andhra Pradesh. He has been part of the Naxal movement for over 20 years.
He was extremely close to the outfit's chief Kishenji and served as a deputy to Ganapathy, another high-profile Naxal leader.
Gaganna is considered to be a key operative who specialises in warfare. While other Naxal operatives planned the attack on Congress leaders, he led the operation that killed 17 people and injured many others.
He carries a reward of Rs 19 lakh on his head and central agencies have been hunting for him since he managed to give them the slip during the encounter in Bengal in which Kishenji was killed.
He fled West Bengal after the encounter and sought refuge in the Chattisgarh unit.
Police believe that Gaganna is an expert at using AK-47. He specialises in guerrilla warfare and explosives.
He has trained over 1,000 operatives and has been part of at least 20 terror strikes staged by Naxals which have targetted police personnel and government installations.