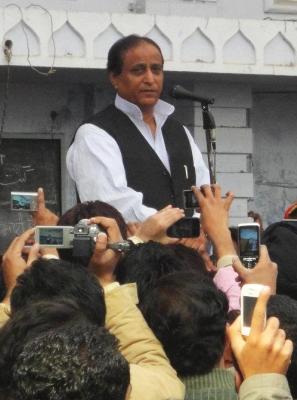 Delhi Chief Minister Arvind Kejriwal may not have succeeded in getting the two policemen shifted for allegedly patronising a drug racket. But in neighbouring Uttar Pradesh, theft of seven buffaloes belonging to state's powerful minister Azam Khan led the authorities to promptly punish three cops.
A sub-inspector and two constables were stripped off their posts and sent to lines in Rampur district, even after the local police recovered the buffaloes after a day-long hunt and deposited the bovines back in the minister's farmhouse on the outskirts of Rampur city, about 300 kilometres from Lucknow.
According to reports, the minister was contemplating more serious action against the policemen, and more heads were likely to roll, because the fastidious minister firmly believes in fixing responsibility for the "grave lapse" and "dereliction of duty."
Meanwhile, Rampur Superintendent of Police Sadhana Goswami has been busy explaining to the local media how she left no stone unturned to trace the buffaloes of the minister, who is widely perceived as the "most powerful" man in UP's 60-member council of ministers.
More than 100 policemen drawn from different local police stations were understood to have been put on the buffalo hunt, which went on for a good 24 hours during which every other crime in the city was relegated to the back burner.
"Apart from forming 10 separate teams which fanned out in different parts of Rampur, we also pressed sniffer dogs into service to track down the stolen buffaloes," said Goswami.
She added, "Ultimately, it was the trail detected by the sniffer dogs which led our teams to recover five of the buffaloes while the remaining two were tracked down by another team."
According to her, "A case of theft of buffaloes and trespass was duly registered under sections 380 and 457 of the Indian Penal Code, following which we got down to investigating; several raids were also carried out on certain slaughter houses as well as meat shops and finally we succeeded in cracking the case in record time."
She however declined to comment on why action was taken against the cops when the "stolen goods" were recovered. She also refused to throw light on why, in contrast to the minister's case, commoners in Rampur were often found complaining about the difficulty they faced in getting their complaints registered with the police.
Khan, who is often in the news for the wrong reasons, was however unavailable for comment even after repeated efforts.
Image: Uttar Pradesh minister Azam Khan
Photo courtesy: Azam Khan's fan page