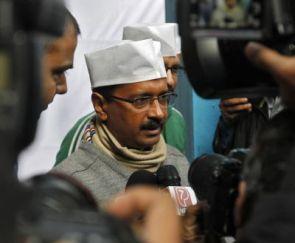 Intelligence Bureau officials who have been analysing the threat perception to Delhi Chief Minister Kejriwal say there is nothing concrete to show that the Indian Mujahideen is planning to abduct Kejriwal.
Although they realise that Kejriwal is an easy target due to lack of security, the IM at present is not prepared to take such a huge step, they say.
The scrutiny and the heat on the IM is very high following the Patna blasts in which they targeted BJP PM candidate Narendra Modi. "The exact alert we have suggests that they are trying to hijack a plane to secure the release of Yasin Bhatkal," sources said.
The IM is an outfit that specialises in blasts and assassinations. They would need a much larger force with precise planning to carry out an abduction. They had planned on carrying out abductions of businessmen in 2006 but dropped the idea. They chose to extort businessmen instead.
In the case of Kejriwal the bigger threat is from the Babbar Khalsa International. Going by the operational procedure, it is clear that the Inter-Services Intelligence wants the BKI to get a foothold in India afters years of sheltering and training them.
The ISI plans on using the BKI only in New Delhi and Punjab.
The outfit has fidayeen capabilities and can carry out high profile abductions. Clearly they are a more specialised unit compared to the IM in this area, IB officials point out.
Kejriwal does have a security cover that is not visible to the public. The police do provide cover despite the CM's refusal.