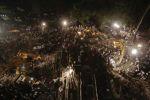 Nationalist Congress Party on Sunday suspended its corporator from Mumbra, Hira Patil, who has been arrested following the building collapse in neighbouring Thane district which left 74 dead.
Party spokesman Nawab Malik said Patil had also been issued a show-cause notice.
"We want to hear him out before taking the next step," Malik said.
Patil is one of the nine people arrested after the illegally constructed building in Shil Phata area near Mumbra collapsed like a pack of cards on Thursday evening.
Thane police commissioner K P Raghuvanshi said that Patil was accused of accepting bribe from the builder to facilitate the building's construction without any permissions.