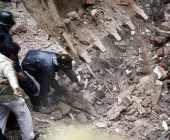 A suspended assistant municipal commissioner of the Thane Municipal Corporation was arrested on Thursday in connection with last week's building collapse in Thane in which 74 people were killed, taking the number of those taken into custody for the tragedy to 14, police said.
Shyam Thorbole, the assistant municipal commissioner, was arrested on January 23 this year by the Thane's Anti-Corruption Bureau unit for allegedly accepting a bribe of Rs 1 lakh from a complainant at Diva, where the TMC had demolished around seven illegal chawls, they said. He allegedly accepted the bribe for discontinuation of the demolition drive.
Following his arrest in the bribery case, he was suspended. Thorbole was later out on bail and was under the police scanner. As many as 74 persons including a large number of children were killed when a seven-storey illegal building under construction crashed at Shil-Phata in Mumbra on April 4.
On Tuesday, police had arrested Executive Engineer Subash Rawal and the Deputy Engineer Ramesh Inamdar in connection with the incident.
Builders Abdul Salim Aziz Siddiqui and Jameel Ahmad Jajaluddin Shaikh, who constructed the structure, are among those arrested. They face the charge of culpable homicide not amounting to murder and criminal conspiracy, among others.
Three officials of TMC, one of them a Deputy Municipal Commissioner, an architect, Corporator Hira Patil, a building material supplier and a local journalist, are among those arrested earlier.