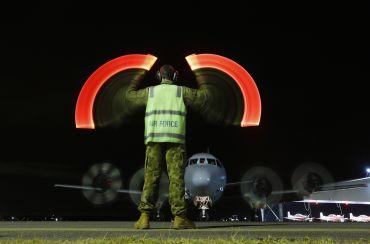 A Thai satellite has spotted hundreds of floating objects in southern Indian Ocean that could possibly be the debris of the crashed Malaysian plane, even as bad weather on Thursday grounded multination aerial search for the aircraft's wreckage.
The image of 300 floating objects was taken by the Thaichote satellite on Monday, a day after images from a French satellite purported to show 122 such objects.
The site was about 2,700 kilometres from Perth and about 200 kilometres from the international search area where the flight is thought to have come down. Some objects were more than two-metres long, Anond Snidvongs, executive director of Thailand's Geo Informatics and Space Technology Development Agency, said.
The Thai agency said it was confident that the images showed floating objects but cautioned that it could not describe them in detail because the images were of a relatively low resolution.
The missing Malaysia Airlines Flight MH370 with 239 people on board, including 5 Indians, crashed in remote southern Indian Ocean with no survivors and their families have been informed, Malaysia had announced on Monday.
After 19 days of searches, there have been multiple sightings of possible debris, but no wreckage has been retrieved. The flight took off from Kuala Lumpur on March 8 and veered southward into the Indian Ocean for unknown reasons.
Malaysia believes the plane was deliberately redirected by someone on board but there was still confusion over what had transpired.
The images of 300 floating objects have already been submitted to the Thai government and were relayed to Malaysian authorities, officials said.
Thaichote or Thailand Earth Observation Satellite is a remote sensing satellite for natural resources observation.
Earlier, Australian and Chinese satellites had also detected unidentified debris.
The Australian Maritime Safety Authority on Thursday called off the air search because of thunderstorms and gale-force winds. Ships will try to continue the search, Australian officials said.
AMSA tweeted: "Update: Ships staying in search area & will attempt to continue searching but all planes returning. Bad weather expected for next 24 hours."
Planes from Australia, China, Japan and New Zealand took part in today's aborted search, the Malaysian transport ministry said. They reached the zone but faced zero visibility and returned to base.
Five Chinese ships and an Australian warship also took part in Thursday's search.
Time was fast running out on the signal emitted by the plane's "black box" of flight data.
AMSA spokesman Sam Cardwell said eight of the 11 planes had reached the search zone and looked for about two hours before the suspension.
"They got a bit of time in, but it was not useful because there was no visibility," he said.
Lt Commander Adam Schantz, in charge of the US Navy's Poseidon P8 plane, said: "The forecast in the area was calling for severe icing, severe turbulence and near-zero visibility.
Anybody who's out there is coming home and all additional sorties from here are cancelled."
The search area is known as the "roaring forties" -- a reference to the latitude and notoriously fierce weather conditions.
It is the second time this week the operation has been hampered by poor conditions.
The Australian Navy ship HMAS Success is in the search area and has been joined by five Chinese ships. China said it was sending another three vessels.
A total of six countries are now involved in the search -- Australia, New Zealand, the US, Japan, China and South Korea.
Image: A Royal Australian Air Force AP-3C Orion returns to RAAF Pearce airbase from a search for Malaysian Airlines flight MH370 over the southern Indian Ocean

Photograph: Jason Reed/Reuters