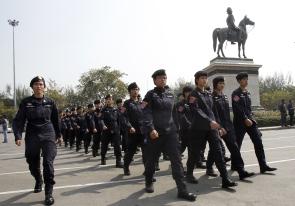 About 500 Thai police officials on Monday staged a rare protest to express their anger after dealing with months of violent anti-government protests and demanded the right to protect themselves instead of being left as "sitting ducks".
The police protest outside their barracks came four days after one of their colleagues was shot dead during violent clashes with demonstrators who were trying to stop candidates from registering for February 2 elections.
Nearly 30 policemen were among the 153 injured during the pitched battle with protesters outside a sports stadium. Two persons also died in the clashes last week
About 500 police officials demanded the right to protect themselves instead of being left "sitting ducks" during violent clashes with anti-government protesters. They also demanded quick punishment for those attacking the police and a right to voice opposition to violence against the police.
A day after their colleague died, lower-ranking police officers used a messaging platform to vent their anger at their superiors for the lack of leadership during violent clashes with protesters.
They said they were angry that they received no orders on how to deal with anti-government protesters at the stadium. Protesters are demanding premier Yingluck Shinawatra step down and make way for an un-elected "people's council to carry out political reforms to get rid of corruption before polls.
They claim that the Yingluck government is controlled by her fugitive brother and former premier, Thaksin Shinawatra -- who lives in self-exile to avoid a prison term on a corruption conviction.
Over a dozen people have died since October in the protest triggered by an amnesty bill that could have allowed the return of Thaksin.
Image: Thai police officers gather at the RoyalPlaza near the government house in Bangkok
Photographer: Chaiwat Subprasom/Reuters