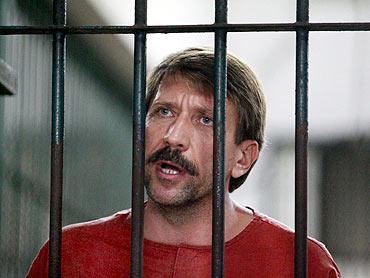 A Thai court has ruled that Russian Arms Dealer Viktor Bout be extradited to the US to face trial for attempting to supply the Colombian militant group FARC with missiles.
Bout was arrested from a  Bangkok hotel in 2008, when US officials posing as members of Colombian rebel group FARC tried to buy surface to air missiles from him.
The appeals court overturned an earlier decision which said that Bout had to extradited within three months or freed. This ruling has ensured that Bout has no legal options left to explore.
The Thai govt is not bound to follow the court's recommendation but is likely to expedite the extradition to appease Washington.
Bout also faces money-laundering and extortion charges in Thailand, if Thai prosecutors pursue these cases the hearings could exceed the three month deadline for his extradition. The Thai officials have been under intense pressure from the Russians to release Bout. The court  had even asked the foreign office to prepare a document on how the judgement could affect the country's foreign relations.
Bout's wife Alla claims her husband's case was a 'political one.'
Image: Suspected Russian arms dealer Viktor Bout speaks to the media after arriving at a Bangkok criminal court.
Photograph: Sukree Sukplang/Reuters