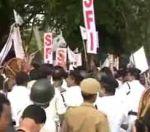 Expressing anger over the death of a Communist Party of India-Marxist student leader allegedly due to police action in Kolkata, Union minister Manish Tewari has said the West Bengal government should overcome partisan politics and ensure justice in the case.
"As a student/youth activist who often was at the receiving end of the tender mercies of police feel sad and angry at Sudipta Gupta's death," Tewari said in a post on social networking website Twitter.
"Hope the government of W Bengal that consists of former Chattra Parishad/ Youth Congress activists would surmount partisan politics for justice," he added.
Sudipta Gupta, 22, who was arrested after a clash with police, died on Tuesday triggering a row with police who claim Gupta fell from a vehicle, while opposition leaders alleged he had succumbed to injuries sustained in lathicharge by police.
The incident happened when SFI supporters gathered in Rani Rasmoni area of Kolkata in connection with a protest rally to demand holding of college union elections in the state.