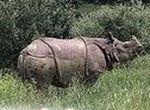 For better surveillance of KazirangaNational Park, the National Tiger Conservation Authority of the Union Environment and forests ministry will undertake test flights of unmanned aerial vehicles over the KNP from on Monday.
Assam Minister for Environment and Forests Rockybul Hussain said said the flights would be conducted till April 11.
Besides NTAC, officials from Wildlife Institute of India and the state government would also monitor the drone flights, he said.
"The test flight of UAVs at KNP would be taken up from 4 pm tomorrow. Senior scientist from WII Dehradun K Ramesh and WWF International's A Christy Williams will be there," Hussain said.
He said the state government has already sent a proposal for use of UAVs in KNP to protect wildlife and to fight against poachers.
"The Union Ministry of Environment and Forests has already forwarded the request to the Ministry of Defence. So far the MoD has not given its approval," the minister said.
He said no MoD official would be present during the test flights.
"The test flights would be helpful once we get the MoD approval," Hussain said.
For the test flight, 'Hobby UAVs' would be used for which no MoD clearance is required, he said.
Hussain said NTCA is also organising a training programme at KNP on April 20 on the subject of investigation and forensic in wildlife offences.
"We had asked for such a session as knowledge of legal matters on wildlife offences is less among officials. CBI Mumbai Joint Director Keshav Kumar will chair the training programme," he said.