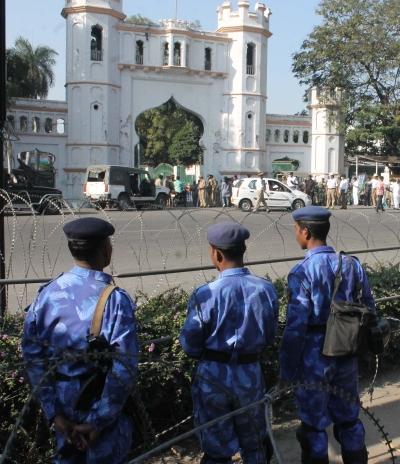 The political deadlock in the Andhra Pradesh assembly is likely to end on Monday, when the Telangana Bill will finally be presented in the House.
The assembly has been adjourned repeatedly following the ruckus over the issue created by leaders from both sides of the debate.
While leaders from Telangana want an immediate discussion on the Bill, leaders from Seema-Andhra region are dead against it.
Governor E S L Narasimhan is likely to summon Chief Minister Kiran Kumar Reddy and tell him clearly that a bill sent by the President simly cannot be ignored.
The Speaker of the House will have to ensure that the Bill is discussed before the session concludes. The state government may or may not agree with the provisions of the Bill, but a piece of likely legislation sent by the President cannot be brushed under the carpet, Governor Narasimhan is likely to tell Reddy.
Meanwhile, Congress's Andhra Pradesh in-charge Digvijaya Singh, who is currently in Hyderabad, met leaders from the Seema-Andhra region recently.
He told them firmly that the decision on Telangana was final and the Congress had no intention of revoking it.
The tension between the supporters and opponents of Telangana was worsening, Singh reportedly warned Congress men, adding that the issue had to be resolved before the situation got out of control.
Image: Security personnel outside Andhra Pradesh assembly ' Photograph: SnapsIndia